Health:

Breeders will have records of the genetic checks they will have done on their own dogs. Prospective new owners should ask for those results.




Hips and elbows results are normally to be found on www.ofa.org , though Canadians often used Guelph's OVC system in former years. Or, in the case of imports to Canada, other foreign registries. At a minimum, you should be able to see results of the parents of the litter. But often results of several generations may be available.

Eyes : These physical checks are done by veterinary ophthalmologists. These should be ongoing through the dog's life, though there is no schedule set by our Club. Eye checks could be done as often as every year, or more usually, every two years or so.




Thyroid: This is a simple blood test to check, most importantly, for antibodies to the thyroid, but other indicators as well. An in-house T4 that vets can perform, is not sufficient. But your vet can send the sample to Michigan State University, or Antech Diagnostics in California, or in Canada ask for the pre breeding screen from IDEXX Reference Laboratories Ltd. As autoimmune thyroiditis is of unknown mode of inheritance, testing may be periodic through a dog's life. But the first check is advised by OFA to be sometime around eighteen months of age.




AMENDMENT TO RECORDING OF DNA TEST FOR VON WILLEBRANDíS DISEASE IN IRISH RED AND WHITE SETTERS

Following a review of the DNA test for von Willebrandís disease (vWD) in the Irish Red and White Setter, The Kennel Club will be withdrawing this as a recognised test for the breed with immediate effect.
The mutation for vWD in Irish Red and White Setters was discovered by the Animal Health Trust in the late 1990s but unfortunately, its details were never published in a scientific journal. Discussions with the current Kennel Club Genetics Centre (KCGC) have brought to light that following the move from the Animal Health Trust, the KCGC will not be able to offer this test in future.
Since the closure of the Animal Health Trust in 2020, the test has not been offered by any other laboratory. Other laboratories may have been offering a vWD test for a number of breeds, including the Irish Red and White Setter, but these tests are not for the Irish Red and White Setter specific mutation, and are not applicable to the breed.
As such, The Kennel Club has removed recognition for DNA tests for vWD in this breed, as there is no opportunity to test for the correct mutation. In addition, a very small number of Irish Red and White Setters that are tested for a different mutation to the one that was previously available from the Animal Health Trust will be removed from The Kennel Club database.
Fortunately, the data records the breed have collated over the years have been reviewed, and The Kennel Club is confident that this condition is not a concern in the breed at this time, and that early selection against the causative mutation was successful.
Given the above, The Kennel Club will also be removing the control scheme for the breed and no longer require this test for the registration of progeny (both for dogs bred in the UK and imported).
This condition will of course be continuously monitored in the breed, and if dogs are found displaying symptoms associated with the Irish Red and White Setter specific mutation within the UK population, The Kennel Club will work with the breed to re-establish this test.

Canadian breeders should have either the GB DNA test originally offered by the AHT, or will have done the North American blood test offered by ELISA here. At any rate, as the Great Britain Club writes, we consider vWD no longer of concern.




CLAD: Canine Leukocyt Adhesion Disease was dealt with in the 1990's. It showed up in puppies if they had it, so was not an issue for adults. This has a DNA test available, is a recessive, and therefore was bred out quite quickly. Breeders checked the status of those early dogs by DNA, and as such, most can assure you that the lines behind are clear. It would be most unusual to find a case of CLAD nowadays, and it is no longer a concern in the breed.




Of course there can be medical problems that are common to most dogs, purebred or not. Some might be genetic diseases but without a known mode of inheritance, or perhaps have an added environmental component. Or some may be orphan diseases, or not be heritable at all. At this time, Irish Red And White Setters have no physical or DNA tests except for those common ones noted above, that we commonly test for. If you are interested, breeders can probably tell you about any medical problems in the dogs in their puppies' pedigrees, what they have done to manage any problems, and at what age forbears died.
---
Living with Irish Red And White Setters:
We have found Irish Red and White Setters to be joyful and spontaneous dogs with a keen sense of fun.
They are highly intelligent, although they don't always see things the way we humans do. Most of them love kids, becoming marshmallows in tiny hands.
These puppies are introduced to a variety of people when young.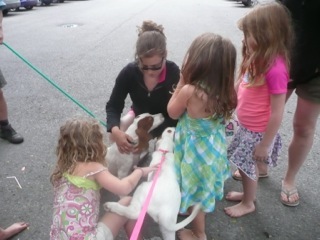 Setters are highly energetic, and require some serious running on a regular basis. What a beautiful sight to see a pair or group of Irish Red and White Setters frolic and race, muzzles lifted to read the breezes.
Below: two youngsters enjoying the snow.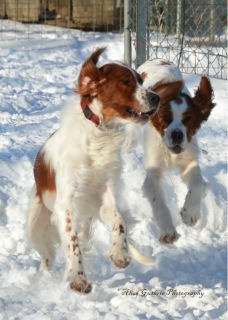 In the field these Setters are serious to the job at hand. Scenting ability is generally good, and if birds are there to be found, the Irish Red and White Setter usually finds them. An Irish Red and White Setter gives delight to the hunter's eye as well as the companionship of an efficient hunting partner.
4 months old Chrissie points her first bird. An older pup, Ronnie, shows good point. The Club holds an assessment day. Intensity shown by Jill.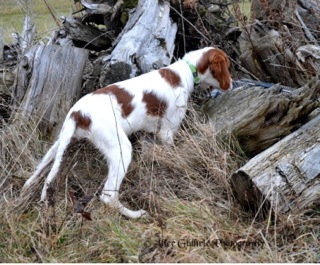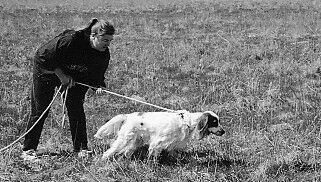 Irish Red and White Setters attract attention and admiration in the show ring, with their flashy parti-coloured markings, and stylish bearing.


They also can be found competing in other events like flyball, obedience, and agility.
Liz and Zydeco's new C.D. We do have a Flyball Ch. in the breed in Canada. Heather's Kia.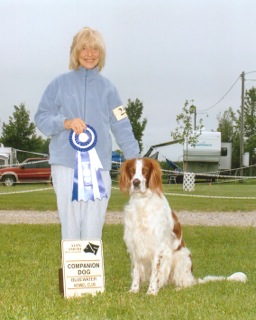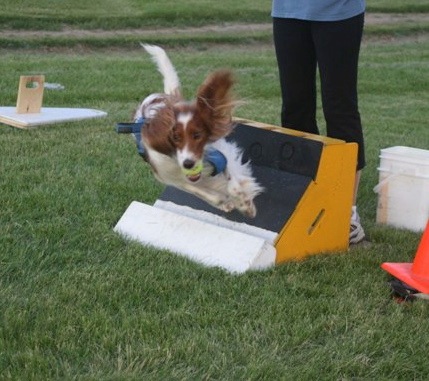 At home, as part of the family, Setters enjoy comfort and being close to their people. They are not a breed that handles isolation in a kennel well. They are generally quiet when indoors, but often excitable when company first arrives, greeting guests enthusiastically, then settling soon into furry rugs.
The Irish Red and White Setter Club of Canada exists to promote the breed and to educate and encourage owners of these wonderful dogs. You are invited to join us, whether your interest is in hunting, showing, or just enjoying the company of your best friend. Your ideas and input are welcome. Please contact any member of the executive for more information on this lively and lovely breed.